VERY SLEEK, SMART AND COMFORTABLE, HIGH PERFORMANCE, CUSTOMIZED LAYOUT
PRICE: 1,800,000 EUR, EU VAT NOT PAID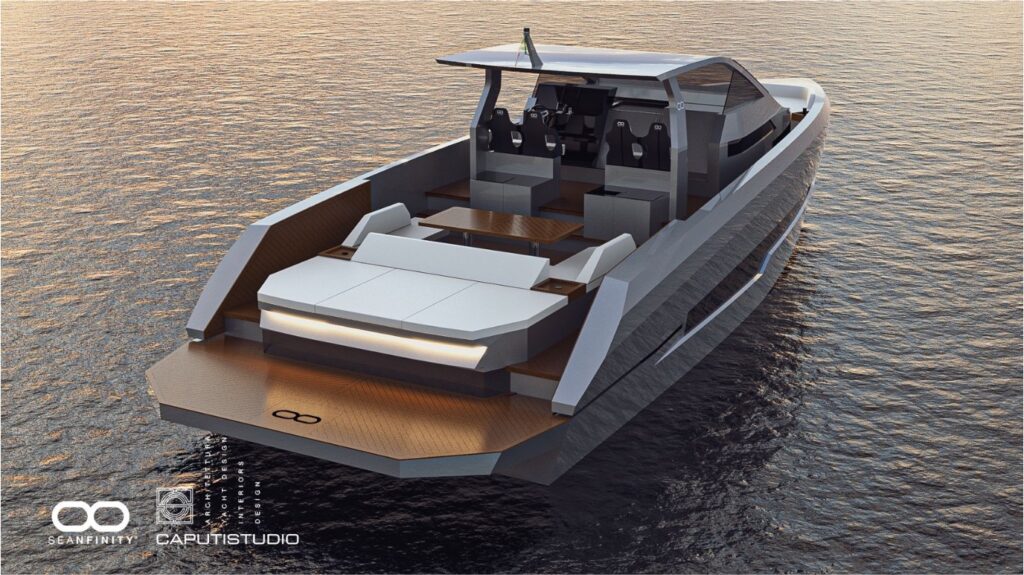 SEANFINITY T6 2024 model.
Beat the waiting list for a beautiful, high performance 60 feet sport yacht, built by Seanfinity Yachts, well knows for high performance and smooth in navigation boats, very sleek, smart and comfortable. Get the chance of having a brand new sport yacht with 2 or 3 cabins, outboard or inboard, with TopSystem surface drives.
Delivery time 8-10 months from order receipt.
Seanfinity Yachts is successfully building and delivering boats, and now building the new Seanfinity T7, delivery in 2024.
Enquire now for more information, configuration options, power options, schedule a visit to check the build process, official listing price.
Hull in Kevlar, huge beam, very deep V, high performance, customized layout.
Compared to the closes competitors, the Seanfinity T6 is much better priced and she delivers higher performance and huge options for customizations.
She can come with:
Outboard power:
Minimum 3 to maximum 5 MERCURY V12 600HP, maximum speed 59 knots.
Inboard power:
Minimum twin 900 hp to maximum twin 1300 hp, TS80 surface drives transmission, with hydraulic platform, maximum speed 46 knots.
Available in two huge cabins and two toilets, or 3 cabins and two toilets.
Crew cabin available.
Hydraulic balconies as standard configuration.
Over 7.12 meters of beam with open balconies. Al fresco dining area for 8 people.
Available in 8-10 months form order receipt.
Builder and Engineering Seanfinity Yachts by TS DRIVE SRL
Seanfinity Concepts and Yacht Design by Arch. Gianluca Caputi – CAPUTISTUDIO
Builder & Engeneering Solutions Seanfinity Yachts by TS Drive srl
SEANFINITY Concepts and Yacht Design by Arch. Gianluca Caputi – CAPUTISTUDIO
All images are property of their respective owners and they are used for identification   purposes only, Their use for listing purposes is possible only by explicit permission by the owners.
-Builder & Engeneering Solutions Seanfinity Yachts by TS Drive srl
SEANFINITY Concepts and Yacht Design by Arch. Gianluca Caputi – CAPUTISTUDIO
CABINS: 2/3
BATHROOMS: 2
CREW: 1/2
LOA: 17.75 m
BEAM: 5.24 m
DRAFT: 1.00 m
INBOARD ENGINE OPTIONS (DIESEL):
2 x 900 hp
2 x 1100 hp
2 x 1300 hp
CRUISING SPEED: 35 knots
MAX SPEED: 47 knots
OUTBOARD ENGINE OPTIONS (GASOLINE):
3 x 12 V 600 hp Mercury
4 x 12 V 600 hp Mercury
5 x 12 V 600 hp Mercury
CRUISING SPEED: 46 knots
MAX SPEED: 60 knots